THE BIRTH OF A SQUADRON.
Number 607 [County Of Durham] Squadron was born March 17 1930. The airfield chosen was firstly Hylton then West Town Moor later to be renamed Usworth. The airfield was only a couple of miles to the east of the industrial town of Sunderland. honour of being the first commanding officer went to Leslie, later Viscount, Runciman. Runciman was educated at Eton and was a Kings Scholar at Trinity College, Cambridge. Later he was to work in shipping before moving to the family shipping line based in Newcastle upon Tyne. However, 607 Squadron still had no aircraft or pilots.
The first aircraft on 607 Squadron were to be a DeHaviland Gipsy Moth, a Westland Wapiti and two Avro 504s. These were the aircraft chosen to train the new pilots. The squadron was to fly in the light bomber role and was to be equipped with the Westland Wapiti. From 1937, the squadron was designated as a fighter squadron and was equipped with the Hawker Demon. This was to last until 1938 when it was re-equipped with the Gloster Gladiator.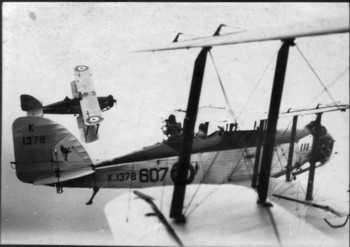 First Aircraft For 607 Squadron.


The first aircraft for the squadron were to arrive October 25, 1932. These were joined by two regular RAF officers: F/O M. Griffiths and Flt Lt M. Wiblin. These officers were to be the squadron adjutants as well as the flying instructors.

The honour of being the first trainee pilot fell to Launcelot Eustice Smith of Smiths Dock Repairing Co. Next up was James Anderson Vick of Newcastle. Both pilots joining in 1933. These were followed the next year by Joseph Robert Kayll of Sunderland, Kayll worked in the timber business. Maurice Milne Irving of Jesmond, Newcastle: an engineer at Vicker Armstrongs was next. Last of the first five was John Sample of Longhirst, Northumberland. Sample, like Kayll was educated at Aysgarth. At the time of joining he was a land agent for the Duke of Portland. CLICK THE WAPITI FOR MORE.



Photo Charles Sample.